Our inaugural Hall of Fame event just got a little brighter. Due to popular demand and his gracious acceptance of our invitation we have chosen to add Tully Banta-Cain to the Inaugural Hall of Fame class.
Tully's football prowess was more than noticeable in his time at Fremont. During his time on the field he earned over 1,000 yards as a running back but he would find his calling on the defense, where he would earn All-League honors and be named the SCVAL Defensive Player of the Year. Tully chose to continue his career after Fremont at Cal Berkley.
At Cal, Tully's success continued. 112 tackles and 26.5 sacks in college leaves Tully 3rd in school history for sacks behind Andre Carter and Regan Upshaw. Tully would also earn All-Pac 10 First Team honors as well as the MVP award for Cal's Defense. Tully was selected in the 7th round of the 2003 draft by the New England Patriots.
From 2003 to 2006 Tully played an important role both on the defense and on the special teams with the New England Patriots. He was part of two Super Bowl teams (XXXVIII, XXXIX). In his final year with the Patriots Tully recorded 43 tackles and 5.5 sacks.
In 2007 Tully was signed by the San Francisco 49ers and went on to record 61 tackles and 3.5 sacks in the 2007 season. A major highlight of this season was recovering a Kurt Warner fumble in the end zone to defeat the Arizona Cardinals. In 2009 Tully would resign with New England and record a season high 10 sacks for the Patriots.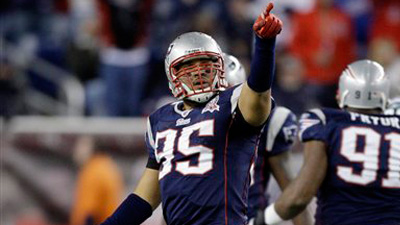 Click on the logo, or title, below to purchase HOF tickets
After his departure from the NFL Tully has turned his focus to music. Follow Tully on Twitter by clicking on the bird.